Ingredient Spotlight: Acetyl Hexapeptide-8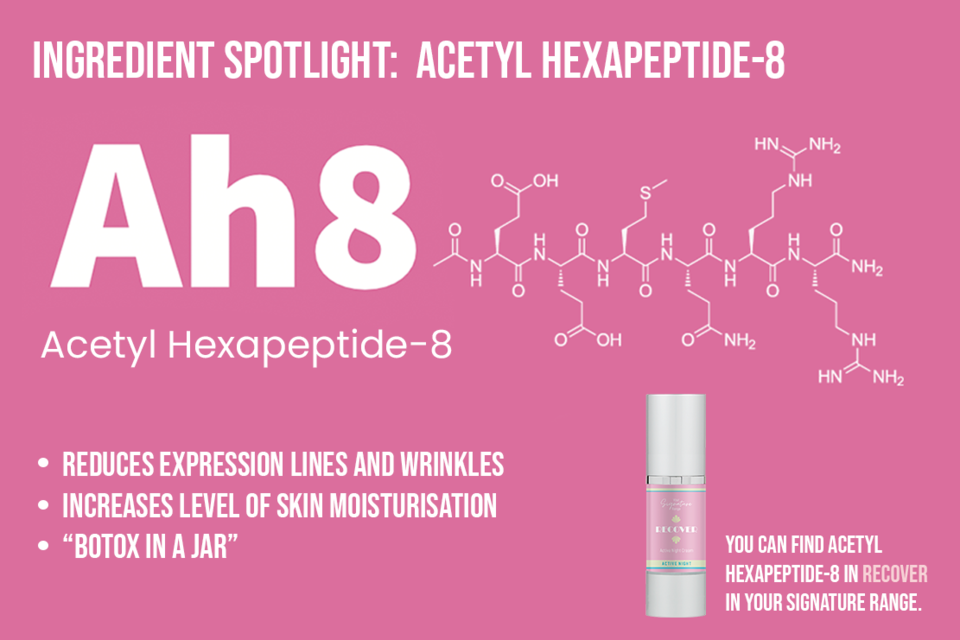 What is Acetyl Hexapeptide-8?
Commonly referred to as 'Botox in a jar', Acetyl Hexapeptide-8 is a peptide compound used to reduce the appearance of fine lines causes by repeated facial expressions, such as crow's feet, glabellar lines or nasolabial lines. Acetyl Hexapeptide-8 is often referred to by its commercial name Argireline, which refers to both Acetyl Hexapeptide-8 and Acetyl Hexapeptide-3.
Acetyl Hexapeptide-8 promotes the skin's natural production of Type 1 collagen, the crucial protein which forms large, eosinophilic fibres to rebuild muscles, reducing fine lines and wrinkles. This ingredient blocks signals from the nerves to the muscles; these muscles can no longer retract which causes the wrinkles to relax and soften. Wrinkles and fine lines caused by sun damage will not respond to Acetyl Hexapeptide-8.
Research shows that Acetyl Hexapeptide-8 can reduce wrinkle depth by up to 30% when used for 30 consecutive days.

Due to its similar structure to botulinum toxin, acetyl hexapeptide-8 in considered an excellent, non-invasive alternative to Botox.

Restores the skin's natural water barrier, and helps bind water to the skin, improving dry skin. It also helps to improve skin elasticity due to the improvement in Type 1 collagen.
With a similar structure to botulinum toxin, Acetyl Hexapeptide-8 works by controlling the production of neurotransmitters. The structure of the peptide mimics a fragment of the SNAP-25 protein and relaxes the facial muscles thereby smoothing the appearance of the skin.
Which 5 Squirrels products contain Acetyl Hexapeptide-8?
Recover - Active Night Cream
Active Ingredients: 0.8% Retinyl Palmitate, 1% Hyaluronic Acid, 10% Acetyl Hexapeptide-8
Recover provides much-needed extra care for your skin to help it recover from the stresses of the day while you sleep. Recover has been specifically developed to help rehydrate and promote overnight recovery, revealing a softer and more youthful appearance for the new day ahead.
More Ingredient Spotlight blogs will be coming to our website soon.
If you would like to try a sample or add Recover to Your Signature Range, please contact info@5squirrels.com.
Cutaneous and Ocular Toxicology, March 2015, pages 46-52
European Journal of Pharmaceutical Sciences, February 2015, pages 27-35
Dermatologic Therapy, September-October 2007, issue 5, pages 343-349
International Journal of Cosmetic Science, October 2002, issue 5, pages 303-310
Posted: Monday 7 February 2022